Latest News
27 August 2015 - Emailed us recently? Please try again!
It has come to light recently that gremlins have attacked our email server and we have had to set up a new account.
If you've tried contacting John recently via this site, please can you resend your email?
The address you'll need is now: johndysonmusic [at] outlook.com, or click this link.
Many thanks and apologies for any inconvenience caused.
09 June 2015 - John Dyson at E-scape
On 30 May, John returned to the stage as part of the E-scape 2015 lineup at The Cut in Suffolk.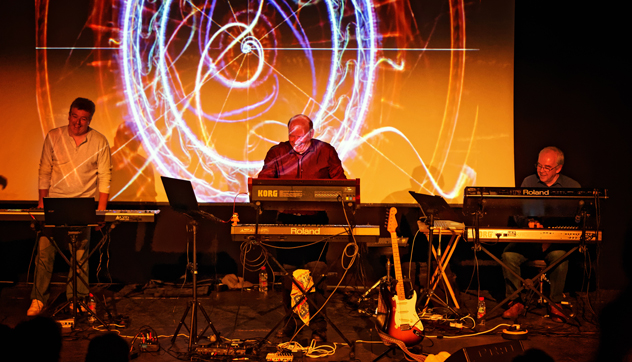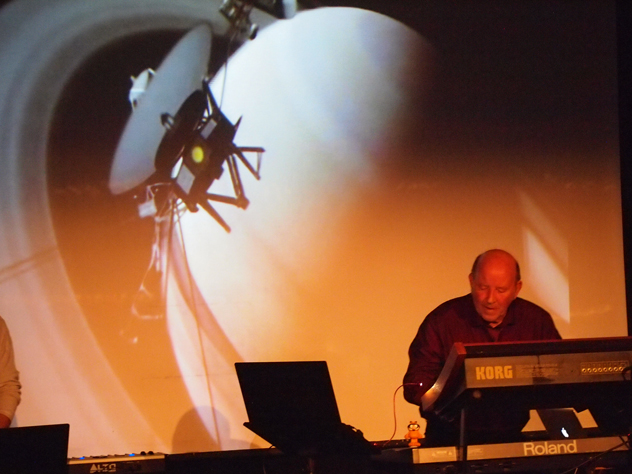 John decided that rather than try and sum up the experience himself (which he loved, by the way!), he'd share with you some feedback from an enthusiastic audience member who wrote after the event.
Hi everyone, I recently attended E-SCAPE Electronic Music Festival on the 30th May 2015 at The Cut, Halesworth, Suffolk . Although the attendance was a little low , I enjoyed every minute of the performances by all on stage . I was joined by my father on the day who loved it all . We are both big fans of electronic music and are big fans of David Wright , Robert Fox , Ron Boots , John Dyson , Paul Ward , Andy Pickford , Chris Franke , Johannes Schmoelling , Becky Williams , and Michael Shipway.
A massive thank you to everyone involved in organising the event as it was brilliant . The last time I went to a concert like this, was Derby Assembly Rooms way back in 1994 at the E.M.M.A festival . Loved that day too ! I would love to know of any other events like this to be planned for the future in the UK . Wouldn`t miss it for the world !!!! My kind of music...... It was also good to hear music I have never heard of before from Eric Van Der Heijden , Glen Main , FD Project and Dreamerproject who were equally good .
At the end of the concert , we both got to talk to Paul, John, Michael, David, Ron and Glen. Very honoured we were too! Good to know you can get to know the performers at the very end of the performance. The Icing On The Cake as they say!!!!
Hope to hear from you very soon with news etc.
Keep up the brilliant work , it`s well worth it! :)
Kind regards,
Richard Marriott
10 May 2015 - Electric Circus
More John Dyson live in 2015 - see details below: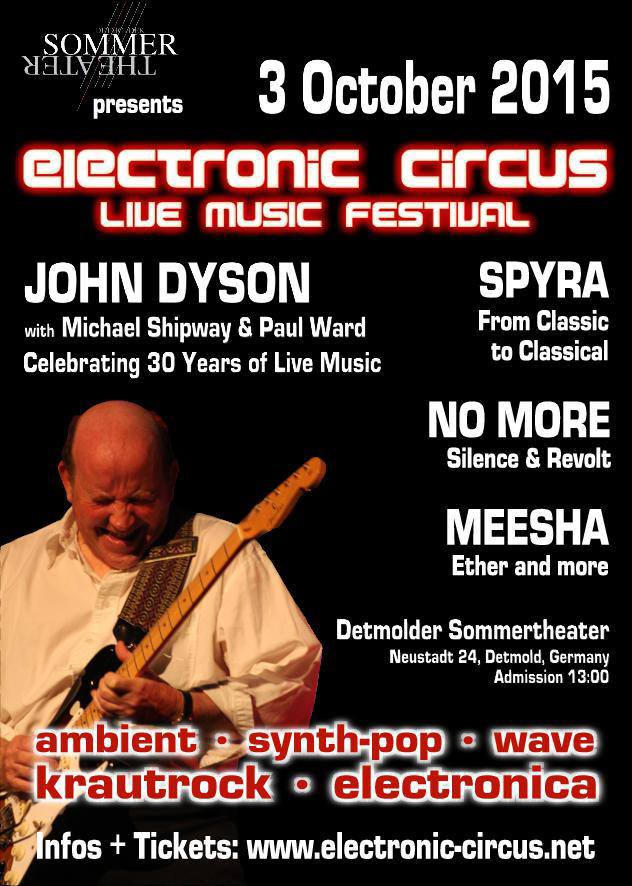 24 Dec 2014 - John Dyson to play E-Scape 2015
John will be playing live next year!
The E-Scape Electronic Music Festival on Saturday 30 May 2015 at The Cut in Suffolk is the venue and full details on times, getting tickets and the other artists on the bill are on the flyer below:
30 Jul 2014 - Moonwind CD
Sadly, the physical stocks of the Moonwind CD have now run dry and the album is now only available as a download from specialist stores.
Download available via MusicZeit
In more positive news, I hear that John has started composing new music again. Who knows where it will end?
Hopefully, more information will surface by the end of the year!
30 Aug 2013 - Postal charges
Sorry to be the bearer of bad tidings but the Royal Mail has slowly been increasing their charges, which means that reluctantly we must also do the same for physical CDs shipped from the website Store.
Of course, we have tried to keep them as reasonable as possible. There is a tiered pricing structure making simple economic sense...the more you buy, the cheaper they become per unit!
Again, apologies that this has had to happen but I hope you'll agree that CDs purchased directly from this site are still good value...and of course, signed copies by the man himself are easy to obtain!!
29 Aug 2013 - Brand new interview with John
One World Music, part of the One World Radio Organisation bring you Atmospheres with Bruce Gall. This week Bruce brings you an exciting and mammoth show, featuring John Dyson in an epic 3 hour interview, with music from John's solo work as well as from Wavestar and includes two new exclusive in progress pieces.
Atmospheres with Bruce Gall feat. John Dyson by One World Music on Mixcloud
19 Aug 2013 - Aquarelle
Unfortunately 'Aquarelle' is now out of physical stock from this site but is available for download from MusicZeit in either MP3 or FLAC formats or from Planet Origo. Planet Origo are also, at time of writing, also advertising physical copies.
The tracklist, song samples and a few notes about the album are viewable on the 'Aquarelle' page on this site.